What is meant by visual enhancement?
Recognizing that video is becoming more mainstream in worship and after some initial exploration by staff, the Visual Enhancement Team (VET) was formed to investigate ways to achieve the following:
Incorporate a visual imaging component into worship
Unite in-person and streaming worshipers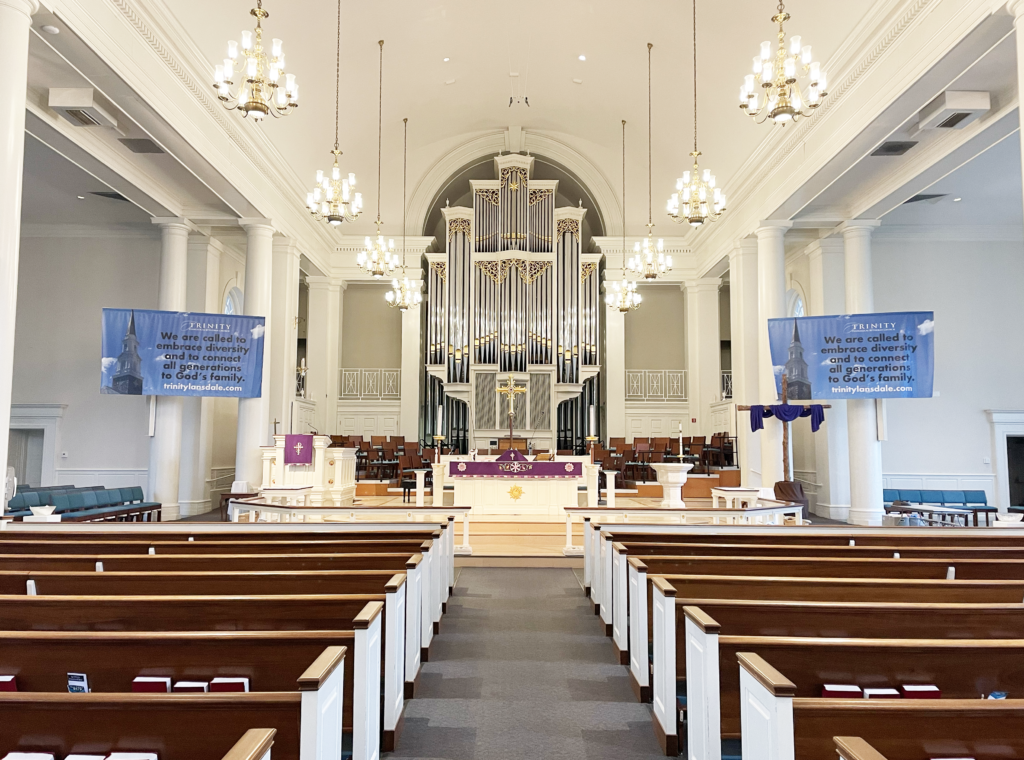 How will LED displays enhance worship at Trinity?
Over time, we plan to use the LED displays to:
Enhance scripture passages and sermons with
images/videos
Highlight sermon themes, church seasons, and
festivals with images/videos
Display text for unison prayer, responsive readings, Scripture readings, and hymn lyrics (in addition to using bulletins and hymnals)
Feature the ongoing work of Trinity's ministries with video updates (VBS, FEAST, Code Blue, vaccination clinics, etc.)
Foster stronger connections within the church body
by displaying pictures of those being baptized, new members, high school graduates, confirmands, saints who have died, marriage recognition couples, etc.
Potential to enable those who cannot attend in
person to serve as worship leaders through remote participation (lector, music)
Aid those with hearing difficulties by displaying a
close-up view of worship leaders
Why LED and not projection?
The Visual Enhancement Team determined that LED would be the optimal display method based on our sanctuary's size and lighting. Unlike projection screens, LED displays:
Operate well with ambient lighting and do not require a completely dark environment
Display the highest contrast images and text
Provide readable text for those seated in the rear of the sanctuary
Have a longer lifespan and less ongoing maintenance than projectors
Where will the displays be located?
Two LED displays (11.5' x 6.6') will be hung by wires from support beams in the ceiling on either side of the altar. They will be positioned at an angle to allow viewing from both transept and nave seating.
This positioning was chosen to maintain the integrity of the sanctuary's appearance and to ensure displays can be viewed from almost every seat in the sanctuary.
Will the displays be movable?
No, the displays will be hung in a permanent, stationary position and are not retractable.
How are other traditional churches using displays/screens?
The VET visited three traditional churches currently using projection screens during their worship services – Lansdale United Methodist in Lansdale, Lutheran Church of the Holy Spirit in Emmaus, and Lima United Methodist in Media. In these churches, screens were used to display:
Slides: Announcements before and after the service, sermon title and graphics
Imagery: Peaceful images during prelude and postlude and throughout the service
Text: Unison prayer, responsive reading, Scripture reading, and hymn lyrics (in addition to using bulletins and hymnals)
Videos: "Minute for Mission" and the introduction of a new staff member
Close-ups of choirs, pastor, leaders, children's sermon, etc.
Members of the VET also spoke with worshipers in the churches they visited and received the following feedback regarding the use of screens during worship:
Worshipers enjoyed being able to see close-ups of the pastor and of grandchildren singing in the choir.
Worshipers liked being able to keep their heads up and engaged, rather than buried in the bulletin.
Some worshipers were initially against having screens, but everyone we spoke to eventually came to appreciate them and what they add to the worship experience.
How much will these LED displays cost, and what is included?
The total cost of this project is $74,663 and includes the following elements:
LED panel displays (2)
Image processor and equipment rack for production room
Installation of LED panels and required cables
Lift/Scaffolding for use during installation
Structural Engineering analysis with stamped drawings
Electrical work
Ongoing support from Spinnaker, who also installed our streaming equipment
How will we pay for this visual enhancement project?
This project will not proceed until we secure full funding, which we plan to raise by:
Utilizing the almost $4,000 that currently exists in a Worship Fund previously designated for image-driven, engaging worship.
Applying for funds from the Trinity Endowment Committee
Requesting contributions from the congregation through the "Pick-a-Pixel" Campaign. Individuals may purchase a "pixel" for $25 each. Using the bulletin board in the lobby, a large image will gradually be revealed with each pixel purchase.
Where can I view an actual LED screen?
LED displays are all over our community inside and outside. LED displays are very versatile and can be in direct sunlight without glare and the brightness can be adjusted. A couple of examples for you to view yourself:
Quakertown at the intersection of 309 at 663
Route 76 near Conshohocken on the riverside
Montgomery Mall Macy's – 2nd floor wall behind returns desk near shoe department. Please make sure you view at least 30-50 feet away to understand the view
Footlocker in King of Prussia Mall
Why isn't the congregation voting on the installation of LED displays in the Sanctuary?
The visual enhancement team presented a proposal to Council that included a plan to raise the funds through a Pick-A-Pixel campaign that will begin in February. The Council voted to approve the project, and therefore it does not require a congregational vote.