Trinity Lutheran Church Code Blue Shelter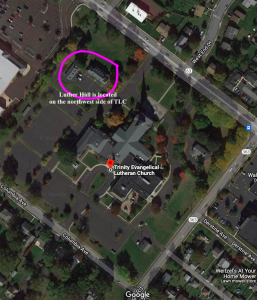 The Code Blue Shelter is located at: Trinity Lutheran Church (Luther Hall), 1000 W. Main St., Lansdale, PA 19446
If you are interested in volunteering your time at Code Blue or donating a meal, click here to sign up.  If you have other questions regarding Code Blue, please email Mark Lanan at: codeblue@trinitylansdale.com
The shelter is open when the shelter organizers call a Code Blue. Code Blue declarations occur when the outside air temperature falls below 30°.  To find out if Code Blue is called for the night, please go to our home page. The information is listed on the bottom of the page, www.trinitylansdale.com.
Lansdale Code Blue shelter making changes for fall
Training and vaccination requirements set for volunteers: Read more…
MOntgomery county code blue plan
https://www.montcopa.org/572/Extreme-Weather—Cold
Donations for Code Blue
If you would like to donate items to help our homeless community, please see the list below.  There will be a receptionist in the lobby of the Trinity Lutheran Church during normal business hours to collect donations.
The following list are recommended donations:
Help our Code Blue visitors by donating items to assemble laundry kits for folks living outside. If you want to help, purchase a laundry card from Sudz,(124 E. Main St., Lansdale)
 and drop the card off at the lobby of Trinity Lutheran Church.
Code Blue Laundry Bags
To assemble a kit please include soap pods, dryer sheets, laundry bags, and laundry cards from Sudz Laundry.
Socks:
Merino wool is the best; socks saying "Wool blend" should be checked to make sure they are more than 50% wool, and have no cotton.
Bombas is a great brand, and they have "Buy one, give one".  Make sure they are the wool socks, as Bombas makes a lot of kinds of socks
Alvada 80% merino wool hiking socks 3 pack are a good value on Amazon
Hats:
Polartec fleece, or microfleece. Not like a knit jersey hat
Turtle Fur and "Project Warmth"
Carhartt, LL Bean, Outdoor Research all have fleece hats
Long Johns:
Polypropylene is the fabric
Thermajohn on Amazon has a set for about $20
Avoid the old school "waffle print" cotton ones
Gloves:
Polartec windproof
Columbia Thermarator
OZERO winter gloves -30 cold proof on Amazon for about $20
Handwarmers
Scarves/neck gaiters
Wool blend scarves
Fleece neck gaiter
Coats:
Built in Hood is key
Carhartt Active jacket or Duck active jacket with hood about $99
Camel Crown on Amazon ski jacket with a hood  about $79
Ponchos/umbrellas:
Terra hiker poncho on Amazon for about $17
Totes automatic open compact travel umbrella on Amazon for about $20
Food:
Anything that can be placed in a backpack, such as energy bars, individual packs of crackers, juice boxes, etc.
If you want to donate cases of food, the food can be transported to Manna on Main Street from Trinity
To sign up to help or request further information, please send an e-mail to: codeblue@trinitylansdale.com.