God is calling us to make disciples, who make disciples!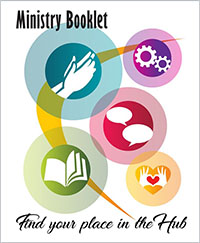 Want to know more about all the discipleship opportunities at Trinity? Click the image to the to the left to download the 2015 Discipleship Booklet.
As each has received a gift, use it to serve one another, as good stewards of God's varied grace.   1 Peter 4:10 (NRSV)
Do you know how has God gifted you?  
Are you aware of how those gifts could be used in your life – work, family, world, and church?
At Trinity we want all of our disciples to be aware of their spiritual gifts in order that they may better serve God in their daily life by doing those activities for which they are gifted.There is nothing worse than to be asked to do something for which you have no interest or ability.  We are not looking for warm bodies to fill church slots.  We want to help you discover your unique set of gifts, and then provide occasions and resources for you to use those gifts in God's world.
Please complete Trinity's Spiritual Gift Discovery tool in order to discover your gifts and get connected to the right ministry.