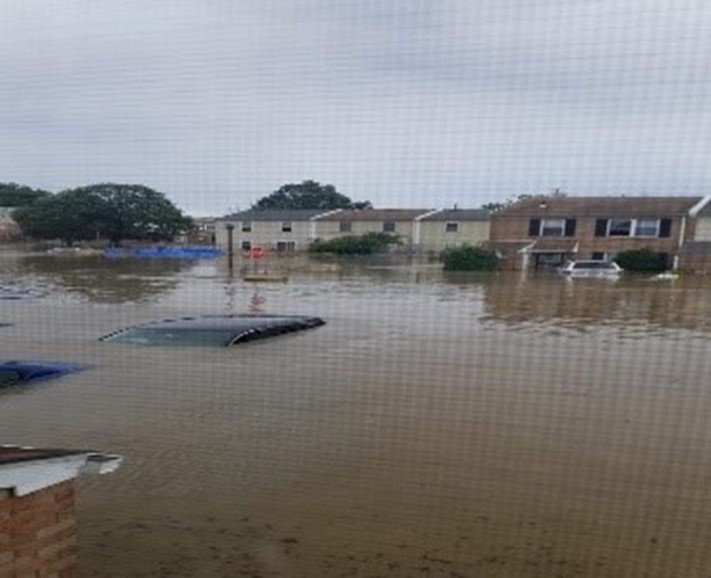 Responding to Storm Ida, Isaias
Thanks to so many of you who have committed to assembling flood buckets for storm survivors. Assembled buckets may be returned when you can to Hyson Hall. Place them in the near right corner as you enter. The deadline for returning buckets is Oct. 17.
Our close-by neighbors have experienced major and life-altering property damage in the aftermath of Ida recently in communities like Perkasie, Perkiomenville, Bridgeport, Collegeville, Ambler and Skippack. Residents of Eastwick, a community near Philadelphia Airport, are focusing on long-term recovery in the aftermath of Storm Isaias last year. Want to help?
Volunteer:

Trinity disciples Cortney Birenbaum and Steven Hull are leading a recovery initiative in Mont Clare in the aftermath of Ida. For information on how to volunteer contact Cortney at cortneyb@verizon.net, or Steven at stevenhull578@gmail.com.

Respond to Ida – Currently more than 10,000 registrations have been submitted for federal disaster response assistance in Pennsylvania in the aftermath of Ida. Lutheran Disaster Response – Eastern PA, under the direction of Trinity Disciple Julia Menzo, is working with partner agencies to identify residents who cannot clean up on their own and in order to meet their needs. Weekend events will be organized in the coming weeks to help families clean out and remove debris. Volunteers must be 18 or over because of the likelihood of mold. Please let Mark Staples know via email at mstaples545@gmail.com if you are interested in being contacted once those volunteer dates are posted. Mark will be in touch with Julia so you receive additional information on where to help when the time is right. The areas of greatest current concern are Perkasie, Perkiomenville, Schwenksville, Bridgeport, Modena and Downingtown.

Lutheran Disaster Response is also leading rebuilding efforts in Philadelphia's Eastwick following terrible damage to 50 homes there after Isaias last year. Especially needed are volunteers with basic knowledge of carpentry or general construction. Less skilled volunteers are also welcome. Typical activities include hanging drywall, spackling and laying flooring. Please let Mark Staples know (mstaples545@gmail.com) if you are interested in joining for a day or more of volunteer work in Eastwick.

When you contact Mark also be sure to let him know of any particular skill sets you have or wish to employ in any rebuilding effort. Having a cell phone contact for Julia to employ will be helpful when you email.

Help to staff a resource center or help with mucking and gutting damaged properties: Contact Trinity Disciple and Lutheran Disaster Response Coordinator Julia Menzo at jmenzo@libertylutheran.org to learn more.
Assemble simple hygiene kits. Trinity members are already doing these. Contact Vicki Seal at vseal@trinitylansdale.com.
Donate: Mail checks made out to Lutheran Disaster Response–Eastern PA to Lutheran Congregational Services, 7002 Butler Pike, Ambler, PA 19002.
Questions? Email Julia at jmenzo@libertylutheran.org.
In the midst of disaster comes relationship-building
By Julia Menzo
Even though I had been working by Zoom with Stacey for months on flood recovery in the Eastwick neighborhood of Philadelphia, this day in March was the first time I had ever met her in person! If you see signs for Heinz Refuge and Island Avenue on I-95, you know where Eastwick is. Unfortunately, a massive landfill and the confluence of the Cobbs and Darby Creeks, make Eastwick prone to severe flooding. To read full article, click here.

Lutheran Disaster Response
Lutheran Disaster Response brings God's hope, healing and renewal to people whose lives have been disrupted by disasters in the United States and around the world. When the dust settles and the headlines change, we stay to provide ongoing assistance to those in need. Click here to donate and learn more.
www.elca.org/Our-Work/Relief-and-Development/Lutheran-Disaster-Response/
Lutheran Disaster Response – Eastern Pennsylvania (LDR–EPA), a ministry of Lutheran Congregational Services, and part of the Liberty Lutheran family of services, is the agency designated by the Evangelical Lutheran Church of America's (ELCA) Lutheran Disaster Response program to oversee disaster preparedness and response for Lutherans in 24 counties of eastern Pennsylvania.
LDR–EPA works with congregations, local and federal agencies, and community organizations to help prepare for and respond to natural or human-caused disasters such as large apartment fires, severe storms, or terror attacks.
Click here to learn more.
Housing Crisis during Covid
Given that unemployment has jumped several percentage points since March when social distancing began, the health impacts of COVID – 19, and other related factors, families are having difficulty meeting expenses for rent, mortgages and other basic necessities. Many expect an eviction and housing crisis as the economic challenges, especially for low income people, continue. LDR-Eastern PA, in coordination with our partners in SEPA VOAD (Southeastern PA Voluntary Organizations Active in Disaster) has developed a resource so that congregations and other community organizations can provide guidance for those who are facing homelessness, and to better understand the housing crisis.
Click here for more information.