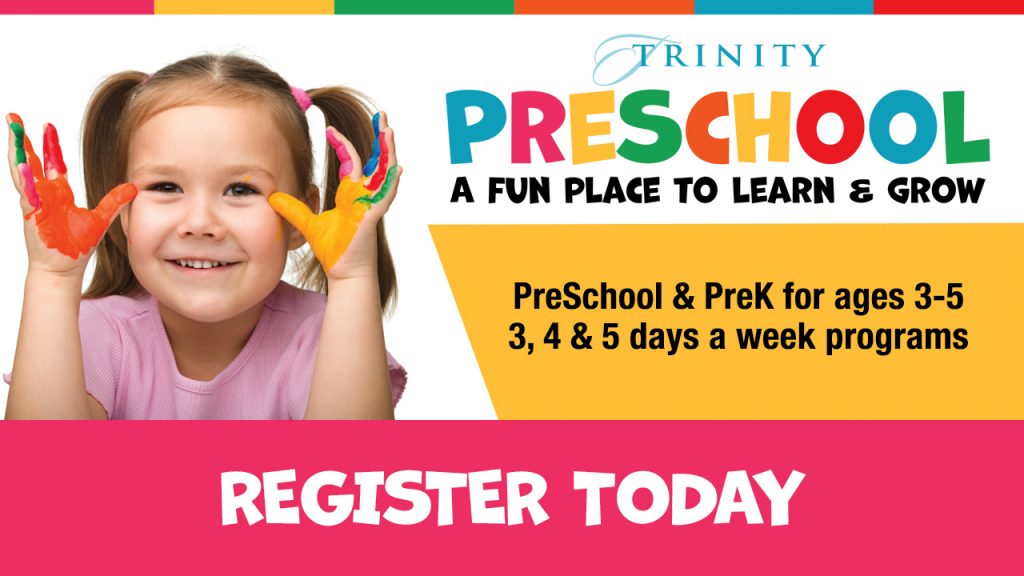 Register your child today! Download the forms below and return to Tammy Ferro, Preschool Administrator, at 267-498-5911 or tferro@trinitylansdale.com.
Trinity Evangelical Lutheran Church PreSchool and PreKindergarten is considered one of the best in the North Penn area.
Our Philosophy
It is our philosophy to teach the whole child. By teaching the whole child, we are addressing their social, emotional, physical, cognitive, and sensory needs through a developmental approach. Here at Trinity Preschool, we believe in cultural diversity. We celebrate the diversity of each individual child and help them understand and acknowledge differences. We are committed to creating a warm, caring, comfortable and safe environment. Our goal is to provide childhood experiences filled with investigations, exploration, and friendships. We hope to create a program where families and their children feel at home and are a part of a supportive community.
Our Mission
Our goal is to provide a stimulating and supportive environment for children to learn, experiment, and grow. Each child is given an opportunity of self-expression through play, art, music, interactive story time, and show and tell. The emphasis at Trinity PreSchool is placed on developing self-confidence and preparation to be kindergarten ready socially, emotionally, and academically.
Worship experiences meaningful to this age child are planned throughout the year. These include daily prayers before snacks, Chapel time, a Christmas Program, and a general appreciation of all God's gifts.
Children must be 3 years old and 4 years old by September 1, 2023

Trinity PreSchool is a place where children will discover their unique worth as they relate to other children and adults. Registration opens for the 2023-24 school year on Tuesday, January 10, 2023 for current and former families and Trinity members and community begins on Tuesday, January 17, 2023. There is a registration fee of $50.00
3-year-old Pre-School Morning Classes
(Tuesday, Wednesday, and Thursday – 9:15-11:45)
4-year-old Pre-School Morning Class
(Monday through Thursday – 9:15 – 11:45 am)
4 and 5-year-old Pre-Kindergarten Morning Class
(Monday through Friday – 9:15 – 11:45 am)
We also offer Lunch Bunch to all students on Tuesday, Wednesday, and Thursday – 11:45 am – 1:30 pm. Lunch Bunch is an additional $15 dollars a session.
Trinity PreSchool admits students of any race, color, and national and ethnic origin to all the rights, privileges, programs, and activities made available to students at the school. It does not discriminate on the basis of race, color, national and ethnic origin in the administration of its educational policies, scholarship or other school-administered programs.