Your NEXT Step here at Trinity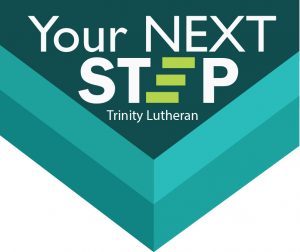 Are you NEW here and are looking to join or just interested in learning more about Trinity?
Take the next step and fill out the connect form.
What can I expect if I come to Trinity Lutheran Church?
You can expect a friendly, welcoming environment. All are welcome here. We celebrate Communion almost every worship experience here at Trinity. All are invited to come forward to receive the Sacrament. Communion is celebrated by Intinction. Please receive the wafer in your open palm and then dip it in the wine.
Where can I park?
Trinity has parking lots on all sides of the church. You can enter at any door and go to either the Sanctuary or Chapel for services. If you need assistance, please ask an usher with a name tag. The facilities are handicap accessible and we have handicap parking spaces in the parking lot.
Where do my children go?
We invite you to bring your children to all services. Our 8:30 & 10:45 am services on Sundays include children's sermons. We have a PraiseGround right in the Sanctuary for young children to play and stay engaged. Children ages 2 through 12th grade can attend Sunday School from 9:30- 10:15 am, September – May. Ask at the Welcome Desk what classroom your child should go to for Sunday School.
Where do I go if I have questions?
We have a Welcome Desk in the lobby of the church and have disciples there to assist you with questions and to provide you with a Visitor Packet. You can also ask any person with a Name Badge to assist you.
Can I bring my coffee?
Feel free to bring your coffee into Hyson Hall, or stop by for complimentary coffee.
What do we do after service?
Make sure you stop by the Welcome Desk in the lobby and introduce yourself and pick up our Welcome Packet. You can then join in Fellowship with other disciples in for some coffee at 9:45 am.