Trinity's Columbarium A Place of Peace
Since the dedication of the Columbarium and Memorial Garden at Trinity, 183 niches have been purchased. Each niche can contain two urns, which are supplied as part of the purchase.
Who is Eligible to be Buried in the Columbarium?
Inurnment in the Columbarium will be available to any member or former member and current employees of Trinity Evangelical Lutheran Church.
This will include, and be limited to, their spouses or significant others, children, and grandchildren, parents, grandparents, brothers and sisters
and their spouses or significant others.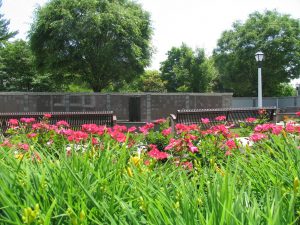 Costs
A niche is $850 which includes two urns and the inscription on the urn.
This is required at the time of purchase. At the time of death, a fee of $190 covers the inurnment and the inscription on the wall. The latest development is that the section of wall does not have to be removed and transported to the inscription company; rather the work is done onsite.
Urns
Inurnments in the niches may be made only in the urns provided by the church. Other urns will be accepted only if they provide permanent inurnment and conform to the size of the niche. All niches will be enclosed with a uniform granite panel, which will later be engraved with the name of the decedent, the date of birth and the date of death.
How to Purchase
Please contact the Church Office at 215-368-1710. You will need to make an appointment to come in, fill out some forms, and select your niche. Remember, $850 is due at the time of purchase. Flexible hours are available.
Columbarium Committee
The current Columbarium Committee members are Al Hanna, Warren Ditzler, and Denny Smith. This committee exists to administer the operation of the Columbarium.