Veteran's Ministry meets at 3:00 pm on the second Thursday of each month.
Purpose Statement:
The newly formed Veterans Ministry of Trinity is a volunteer-based Christian outreach that serves local Veterans from any war or peacetime era, Veterans no matter where they come from, active duty deployed personnel, and their families. The ministry provides the following group meetings and outreach:
Outreach:
The Ministry works with the annual Lansdale PA Hero Walk organization, the federal Veterans Administration to monitor issues affecting all Veterans nationally, the Montgomery County Department of Veterans Affairs, Montgomery County Recorder of Deeds, and other community veterans' and faith-based groups. This Ministry strengthens church-community relationships to help veterans stay connected. Active duty military personnel and their spouses are also invited to participate as they are able.
Meetings:
The Veterans Ministry meets monthly on the second Thursday of the month at 3:00 pm in Room 125/127 of the church to discuss life experiences, veteran's issues, special events, and ways in which veterans can help other veterans, and to help resolve challenges Veterans face in the local area. Everything discussed in the group is confidential. Often times only another veteran or spouse of a veteran can relate to and understand what another Veteran has to share. We provide one another with hope, encouragement, and camaraderie through a Christian environment.
Co-Chairs of this Ministry are Chip Kern, 215-855-0994, beetle325verizon.net, and Donna Nolter.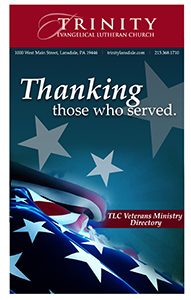 Trinity Veterans Ministry Directory
Click on the photo to download a pdf file of the veterans' directory.